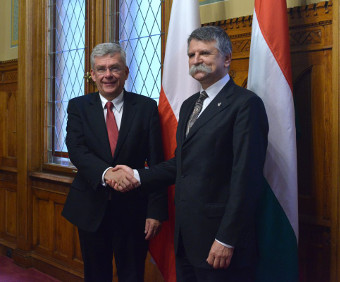 Stanisław Karczewski, the President of the Polish Senate, paid a two-day visit to Hungary on June 29-30, 2017 as the head of a delegation. During his visit, the President had a meeting with the Speaker of the Hungarian National Assembly László Kövér. The President and the Speaker confirmed that the two countries and their two parliaments enjoy a close cooperation, share a common historical past and uphold their Christian traditions. They referred to the challenges Europe and thus the V4 countries are confronted with, i.e. issues related to Brexit and migration. They emphasized the importance of the results of the elections in the Czech Republic, Germany and Austria, as these results significantly influence European developments. The Hungarian Speaker gave an account of the draft programme designed on the basis of an intergovernmental agreement and the events planned during the Hungarian V4 Presidency, including the meeting of the twelve Presidents of Republic to be held in the autumn and the visit to Budapest of the President of China. The visit by the President of China is expected not just to stimulate Hungarian-Chinese political and economic relations, but to raise the profile of the entire region as well. The President and the Speaker agreed that the Hungarian-Polish cooperation must be extended to cover municipalities and the scientific communities, too. They emphasized in agreement: for our countries, the idea of a two-speed Europe is unacceptable, and the positions of the two governments concerning illegal migration are completely identical.
President of the Senate Karczewski and Speaker of the National Assembly visited important memorial sites: they laid a wreath on the Katyń memorial and on the Statue of General Bem and Hungarian-Polish solidarity. Following the parliamentary consultations between the delegations, they attended the coronation ceremony of the replica of the devotional picture depicting the Black Madonna of Częstochowa. The ceremony was held in the Saint Stephen Basilica.
Click ti picture to visit galery.